Present the story of your day in one of my very special storybooks
Every wedding day is unique, and a bride and groom's wedding album should be as unique as their special day. These superb story books are more than just a wedding album: they are beautiful coffee-table books which will keep your wedding story alive forever.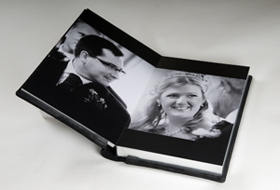 "We got our wedding story book today. It looks fantastic. The pictures really come alive. We will treasure it and will enjoy looking at it hopefully for many years to come. Thank you for all your hard work."
Nicola and Robert
"Our story book is even better than we imagined - it's the most perfect and beautiful reminder of our special day."
Helen and James
Eventually, your wedding cake will be eaten, the petals of your wedding flowers will fall, the wedding car will return to the garage and the wedding dress will be put away. But your wedding photographs and the memories that they contain will be with you, your children and quite possibly your children's children for years and years to come. Your wedding photographs preserve everything you put into your day and in future years they will remind you of just how wonderful your whole wedding day was.
Storybook Collections 2019-2020
The Prestige Collection
Included in the gold plus package
Add 2 matching Parent books - £195
The Prestige Collection of Storybook with a clear glassy cover over the image is included in the PLUS packages - 30x30cm with 15x double page spreads presented in a card protective box.
Pick a the material cover and backing for your storybook
The Ultimate Collection
£225 upgraded cover and 5 extra double pages
2 matching Parent books - £295
The Ultimate collection of Storybooks have natural stone, wood and Leather covers some with the option to have your names laser etched on the cover. 30x30cm with 20x double page spreads presented in a card protective box.
Wood
Pick a the material cover and backing for your storybook